Dinosaur Science Dome in the UK
Dinosaur Dome is designed to explore science, geology and geography in an interactive way. The Dome visits schools and clubs, providing an additional science resource and presenting a different learning experience to children.


We provide a mobile planetarium and natural history shows (rocks/ fossils and dinosaurs) to schools, colleges, youth clubs, scouts groups and playgroups. The service is provided in a blacked-out purpose built mobile dome which can be sited indoors or outside using a special all-surround (hemisphere) screen.
See the power of Full Dome immersive films and images to illustrate science and to stimulate young minds. See scary dinosaurs in Full Dome 360 degrees view using an immersive screen.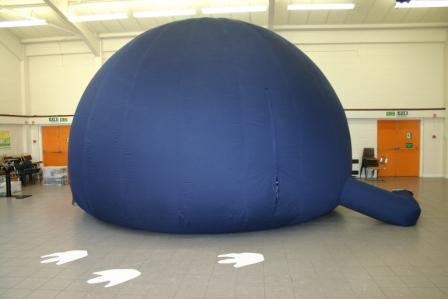 A full day visit costing in the range of £530 (excluding VAT) with a typical day including up to five class shows. Half day rates for three shows £430.
We may charge extra for a sixth show during the day. If your school is located near one of our dome bases (see below), then we may be able to come for a half day. Please apply for half day rates.
Please be aware that we charge a travel and hotel supplement, if we are required to travel a distance from a base in Bournemouth. We have domes now based in London and in the north, Leeds and Newark in Lincs, which can travel to your school to help with travel costs.
Click the link below to book

www.sciencediscoverydome.co.uk
OR Phone no: 01202 304734
OR Email: sciencedome@ntlworld.com
Dinosaur Dome offers shows for all age groups, including Dinosaurs, Fossils, Rocks & Soils, and Plate Tectonics & Continental Drift for older pupils. We can provide shows that fit in to your teaching activities in science, geology and geography, giving students an interactive and enjoyable experience that they will not forget!

Dinosaur Dome participants will:

Have fun while learning science in our giant inflatable dome
Experience school curricula presented in a new, exciting way that they will always remember
Be able to ask questions and interact with someone passionate about science with real dinosaur fossils
See the interconnected relationships among sciences such as geology, astronomy, and physics
Be challenged and encouraged to explore science for themselves
Sessions include collections of fossils, rocks, dinosaur bones, ancient oceanic fossils, all to examine and touch by the pupils.
Visit our website https://www.sciencedome.net/ to explore all the topics we cover with our portable planetarium for schools, groups, events and festivals.